Gaelle Choisne (1985, FR) lives and works in Paris. Sensitive to contemporary issues, Gaëlle Choisne's practice takes into account the complexity of the world, its political and cultural disorder, whether it be the over-exploitation of nature, its resources, or the vestiges of colonial history, where Creole esoteric traditions, myths and popular cultures mingle.  Her projects are conceived as ecosystems of sharing and collaboration, pockets of «resistance» where new possibilities are created, notably with the «Temple of Love» project. Initiated from Roland Barthes' original essay on love, «Fragments d'un discours amoureux» (1977), Gaëlle Choisne adds a political dimension to the concept of love by paying homage to invisible bodies, minority and fragile souls, and dispossessed hearts. «Temple of love » is an evolutionary project defining itself through its modes of appearance and genesis according to its invitations and its location.  The works/installations of Gaëlle Choisne have been exhibited in many institutions: (Vitry-sur-Seine), Centrale Powerhouse (Montreal), CAFA Museum (Beijing), Pera Museum (Istanbul), MAM - Musée d'art moderne de Paris, Musée Fabre (Montpellier), Zacheta Gallery (Warsaw), The Mistake Room (Los Angeles), Bétonsalon (Paris), Gr_und project space (Berlin), MAMO - Centre d'art de la Cité radieuse de Marseille, La Villette x Pompidou (Paris), Centre d'art contemporain La Halle des bouchers (Vienne), Musée archéologique Henri-Prade (Lattes), Musée des Beaux-Arts de Lyon...   She has also participated in a number of biennials and triennial: 5th New Museum Triennial (2021), 11th International Biennial of Contemporary Art (GIBCA), 13th International Biennial of Lyon (2015), 12th Havana Biennial (2015), Sharjah Biennial 13 (2017) and 14th Curitiba Biennial (2017). She's present in several collections such as FRAC Champagne-Ardenne, FRAC Nouvelle-Aquitaine MECA, CNAP, MACVAL, Lafayette Anticipations - Fondation d'entreprise Galeries Lafayette, Musée Fabre - Fondation Typhaine, KADIST  She has been part of many residency programs in France and internationally such as "Meeting Points collaboration" with CCA -Campus Caraïbéen des Arts (Martinique), Bethanian-KW (Berlin), the Rijksakademie (Amsterdam), Atelier Van Lieshout (Rotterdam), the Cité Internationale des Arts de Paris and OPTICA & Art3 Valence (Montreal).  In 2021 she is the recipient of the Aware Prize. In 2019 she is nominated for the Ricard Foundation Prize and the Sam Art Project.   She is currently presenting a long-term project entitled Monument aux Vivant·e·s at the Palais de la Porte Dorée which will take place in different parts between 2022 and 2023. This proposal is part of the "Mondes Nouveaux" project supported by the Ministry of Culture.  Gaëlle Choisne is represented by the galleries Air de Paris, Romainville (FR) and Nicoletti Contemporary, London (UK).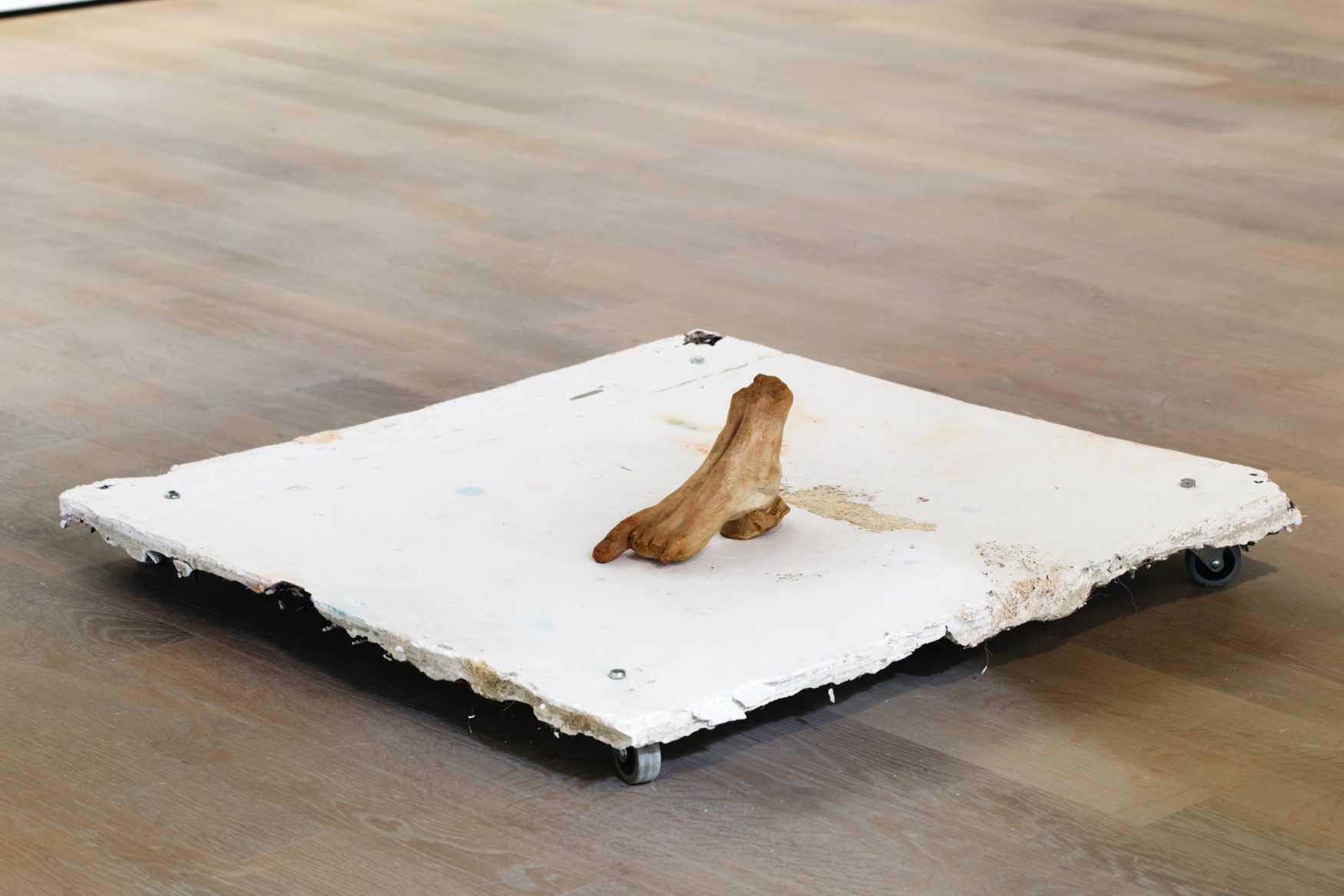 Le pied d'Alep, 2015
Aleppo soap (collaboration with NAJEL (Syria), plaster, sysal, natural pigments, casters), 100 x 100 x 35 cm
+
Ce pied est un hommage aux humains, aux marcheurs. Après avoir découvert un article sur internet en 2015 sur une entreprise de savon d'Alep qui continuait à fonctionner au nord d'Alep en Syrie. J'ai appris que la succursale de cette entreprise se trouvait à Lyon, lieu de ma résidence à l'époque. J'ai donc contacté la société NAJEL pour leur proposer une collaboration qu'ils ont acceptée.
J'ai donc sculpté un pied réaliste, académique, d'après modèle, en argile, avec lequel j'ai ensuite réalisé un moule en silicone. Le moule a voyagé
de Villeurbanne à Alep. Ils ont moulés le savon d'Alep frais à l'intérieur et ont renvoyés le pied qui a voyagé pendant une année sous les bombardements pour revenir à Villeurbanne début 2017.
Le savon parle de notre fragilité en tant qu'humain. Il parle de la finitude humaine. il est symboliquement une métonymie de l'homme. Il évoque le déplacement, il parle de la guerre, des flux, il pourrait «faire pied-zombie», il pourrait être ex-voto. Une sculpture afin de faire un souhait pour que notre humanité reste debout.