Gaelle Choisne (1985, FR) lives and works in Paris. Sensitive to contemporary issues, Gaëlle Choisne's practice takes into account the complexity of the world, its political and cultural disorder, whether it be the over-exploitation of nature, its resources, or the vestiges of colonial history, where Creole esoteric traditions, myths and popular cultures mingle.  Her projects are conceived as ecosystems of sharing and collaboration, pockets of «resistance» where new possibilities are created, notably with the «Temple of Love» project. Initiated from Roland Barthes' original essay on love, «Fragments d'un discours amoureux» (1977), Gaëlle Choisne adds a political dimension to the concept of love by paying homage to invisible bodies, minority and fragile souls, and dispossessed hearts. «Temple of love » is an evolutionary project defining itself through its modes of appearance and genesis according to its invitations and its location.  The works/installations of Gaëlle Choisne have been exhibited in many institutions: (Vitry-sur-Seine), Centrale Powerhouse (Montreal), CAFA Museum (Beijing), Pera Museum (Istanbul), MAM - Musée d'art moderne de Paris, Musée Fabre (Montpellier), Zacheta Gallery (Warsaw), The Mistake Room (Los Angeles), Bétonsalon (Paris), Gr_und project space (Berlin), MAMO - Centre d'art de la Cité radieuse de Marseille, La Villette x Pompidou (Paris), Centre d'art contemporain La Halle des bouchers (Vienne), Musée archéologique Henri-Prade (Lattes), Musée des Beaux-Arts de Lyon...   She has also participated in a number of biennials and triennial: 5th New Museum Triennial (2021), 11th International Biennial of Contemporary Art (GIBCA), 13th International Biennial of Lyon (2015), 12th Havana Biennial (2015), Sharjah Biennial 13 (2017) and 14th Curitiba Biennial (2017). She's present in several collections such as FRAC Champagne-Ardenne, FRAC Nouvelle-Aquitaine MECA, CNAP, MACVAL, Lafayette Anticipations - Fondation d'entreprise Galeries Lafayette, Musée Fabre - Fondation Typhaine, KADIST  She has been part of many residency programs in France and internationally such as "Meeting Points collaboration" with CCA -Campus Caraïbéen des Arts (Martinique), Bethanian-KW (Berlin), the Rijksakademie (Amsterdam), Atelier Van Lieshout (Rotterdam), the Cité Internationale des Arts de Paris and OPTICA & Art3 Valence (Montreal).  In 2021 she is the recipient of the Aware Prize. In 2019 she is nominated for the Ricard Foundation Prize and the Sam Art Project.   She is currently presenting a long-term project entitled Monument aux Vivant·e·s at the Palais de la Porte Dorée which will take place in different parts between 2022 and 2023. This proposal is part of the "Mondes Nouveaux" project supported by the Ministry of Culture.  Gaëlle Choisne is represented by the galleries Air de Paris, Romainville (FR) and Nicoletti Contemporary, London (UK).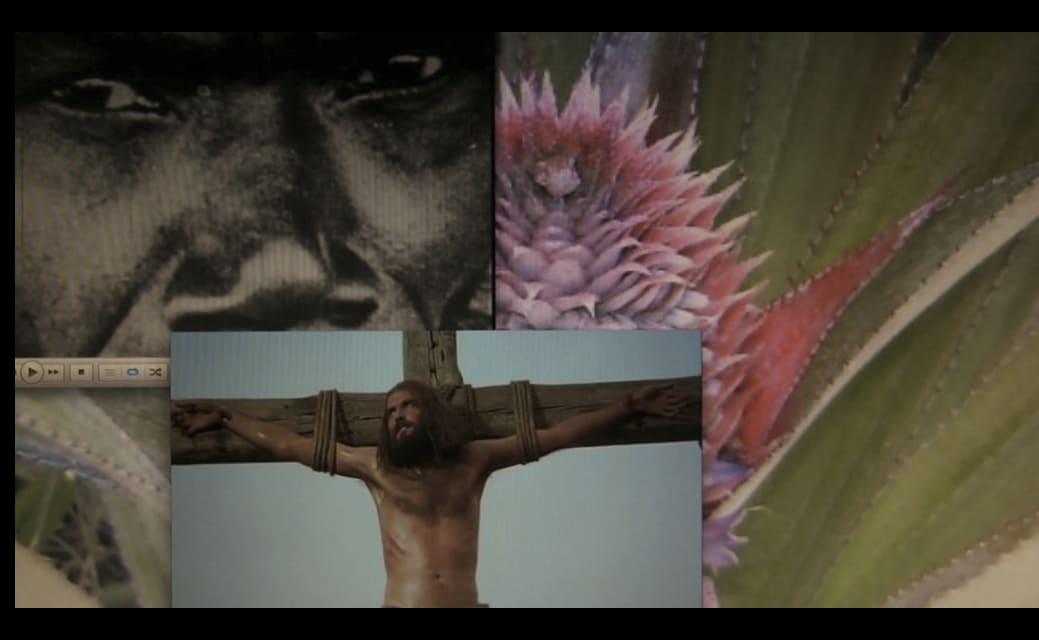 Cric Crac #2, 2014
Digital color video, 16/9, 1:28:04
+
Cric Crac #2 poursuit ces investigations en se concentrant sur l'aspect politique de la zombification, comme métaphore de la menace du prolétariat noir contre l'impérialisme occidental et américain.
Le montage enchevêtre pêle-mêle des scènes de films américains (L'emprise des ténèbres [1988] de Wes Craven ; Mondo Trasho [1969] de John Waters ; Angel Heart [1987] d'Alan Parker ; Thriller [1983] de John Landis et Michael Jackson…) avec des entretiens menés par Gaëlle Choisne avec des spécialistes de la culture haïtienne tels que Frantz Voltaire – directeur du CIDIHCA (Centre International de Documentation et d'Information Haïtienne, Caribéenne et Afro-canadienne) – et Monique Dauphin.
Si le zombie occupe une place importante dans la culture haïtienne, ses origines remontent à des racines africaines et la zombification a servi de moyen de résistance à l'oppression opérée par les colons occidentaux envers les esclaves. D'un point de vue occidental, le zombie cristallise les craintes de l'homme blanc à l'égard des noirs – engendrant nombre de fantasmes liés à la paranoïa et au surnaturel. La figure du dictateur haïtien François Duvalier apparaît également, la période où il dirige le pays correspondant à un moment où l'imaginaire du zombie est très présent.
Cric Crac #2 met en relief cette histoire complexe, avec ses nombreux allers et retours entre l'Europe, l'Amérique du Nord et les Caraïbes, comme ce chant de marins bretons Le grand mât veut d'la route dans lequel on retrouve les paroles « Embraque dur cric crac / Cric crac sabot cuillère à pot ». De nombreux contes haïtiens reprennent cette tradition où, en préambule à la lecture, le conteur prononce le mot « cric » auquel les auditeurs répondent par le mot « crac ».